Europe in the Czapsky family
Józef Czapski wrote in his essay Conversion to Polishness:
"It is very difficult for me to talk about Polishness because my Polishness grew in an unexpected way. We were all patriots, we all sang Jeszcze Polska nie zginęła… and also Kde domov můj because my mother was Austrian from Bohemia and considered herself Czech. My father, on the other hand, was ethnically undefined. A proper Pole, a nobleman, and that was that. After all, our grandfather was a high-ranking official of Tsarist Russia. […] My grandfather, when he was young, used to write about Russia as "notre patrie". Later, however, he completely abandoned Russia, and no word was strong enough for him to not use when speaking of Russia. Our Baltic-Russian aunts found it scandalous that anyone would speak like that in the presence of children. And those children – that was, for example, Tziczerin, later a Bolshevik commissar. It was quite a tangle. […] My grandmother was a Baltic German."
Józef Czapski was born on 2 or 3 April 1896 in Prague, in the seat of the double Czech governor, Franz von Thun und Hohenstein, who – as he himself put it – together with his political rival Kazimierz Badeni, tried to achieve "a fair settlement of Czech and German interests in Bohemia, especially by promoting the importance of Czech as an official language". The birthplace of the Polish painter is therefore the Thun Palace (also called Kolowrat Palace) at 20 Nerudova Street.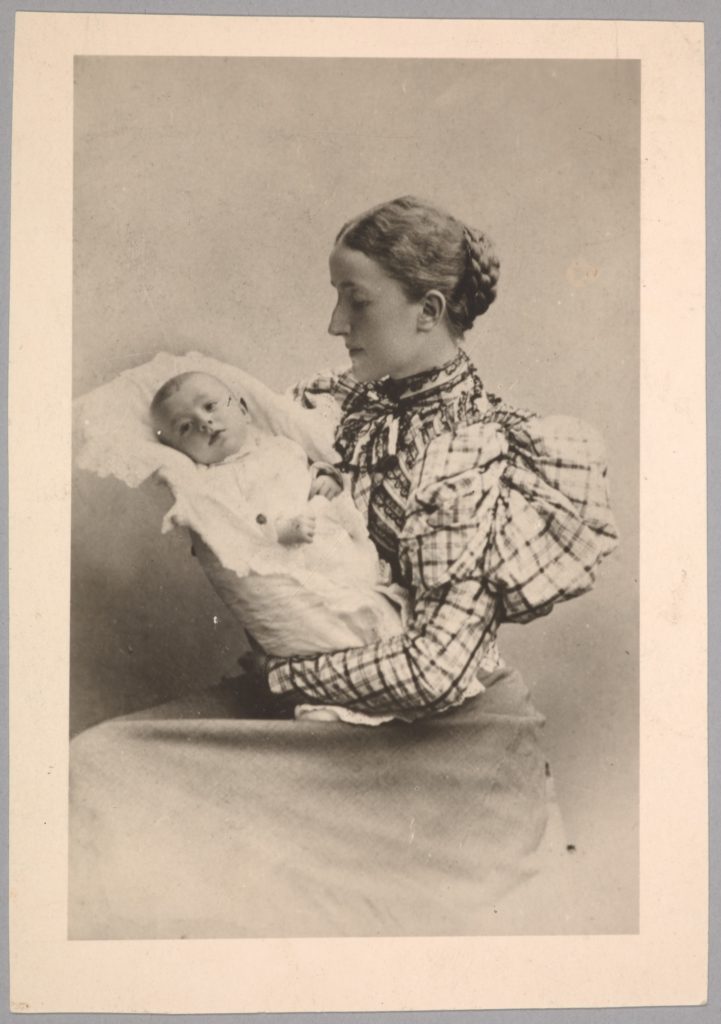 Grandparents
His maternal grandfather was Bedřich František Josef of Thun-Hohenstein, born on 7 May 1810 in Děčín, an Austro-Hungarian politician and diplomat, president of the Frankfurt Diet and owner of the Děčín estate.
His grandmother was Leopoldina Countess von Lamberg.
They owned magnificent palaces in Prague and other estates both in the territory of the present-day Czech Republic and Austria.
On his father's side, his grandfather was Count Emeryk Hutten-Czapski, with a coat-of-arms connection to the Leliwa family. He had an excellent education, knew seven languages, and inherited a great wealth. After his studies, he entered the civil service in Tsarist Russia, where he rose to high positions. Among other things, he became deputy governor of St Petersburg in 1865. However, he became disillusioned with tsarist policy and the situation in the Russian occupation of partitioned Poland, describing it as follows: "The conditions in Russia under Alexander III were unbearable for Poles." So in 1879 he left the tsarist service and settled on his estate in Stańkow (in present-day Belarus), where for many years he amassed collections of Russian and Polish coins, medals and orders, banknotes, Russian and Polish prints, militaria, glass, rare fabrics, paintings, and old prints.
"His Polishness, which had been neglected for many years, was awakened in him, and he decided at that time – perhaps even as a form of statement – to sell his entire numismatic collection of Russian coins and to collect exclusively Polish coins and medals. He sold his Russian collection to the Grand Duke Georgy Romanov Mikhailovich." In 1872 Emeryk Hutten-Czapski, still a high-ranking official, could afford to buy the Przyłuki estate with its fields, forests, and three farms, which was subsequently inherited by Józef Czapski's father.
In 1894, the painter's grandfather decided to move to Kraków with his collections. He bought a two-storey mansion at 12 Wolska Street (now 12 Piłsudskiego Street). It was here that his wife Elżbieta Karolina von Meyendorff, Józef Czapski's grandmother, established the Emeryko Hutten-Czapski Museum for his collections after the nobleman's death, and bequeathed them to the city in 1903 (today they are part of the collections of the National Museum in Kraków).
Parents
The Polish artist was the son of Countess Josefa Leopoldina of Thun-Hohenstein (Austrian) and Count Jerzy Hutten-Czapski (Polish).
In the autumn of 1885, Jerzy Hutten-Czapski and his parents came to Slawuta, where the beautiful castle of the Sanguszko family stood. Countess Thun and her youngest daughter, Josefa (also known in Poland as Józefa or Juża), who was her eleventh descendant and was born in 1867, were staying there as guests.
And it was here, in a place surrounded by beautiful forests and stables with purebred Arabians, that Józef Czapski's parents met.
"Horseback riding allowed the young people to get to know each other, understand each other, and fall in love", wrote Józef's sister, Maria Czapska. "They were both slim and tall, my father had auburn hair and my mother was a redheaded blonde with a braid braided into a crown. The blue eyes, still childlike in their elongated yet chubby face, stare out at us from period photographs."
Jerzy Hutten-Czapski asked Countess Thun to marry his daughter, but did not get her consent to the engagement.
The cause for concern was the fact that this would be the second of Count Thun's daughters to marry a Pole. In 1868, Caroline, nineteen years older than Josephine's sister, had married a Pole – Prince Roman Sanguszko of Slawuta.
"Mrs. Thun asked for a six-month deferral, a six-month trial period. My mother was eighteen, my father twenty-four," Maria Czapska wrote. "In the spring of 1886 the official engagement took place in Prague and the date of the wedding was set for the first days of August. It was to take place in Děčín. The Czapski grandparents had prepared their residence in Przyłuki to host the newlyweds. […] The bride's wedding dress was prepared in Vienna. All the linen, crockery and cutlery bore the initials not of the bride, as was the custom in Poland, but – according to Austrian custom – the initials of the future husband, which in this case were two Js and two Cs intertwined with a monogram."
Before the wedding, the whole party went to Kvasice in Moravia, where the Thuns owned a large estate, and Josefina's mother and her youngest children had settled there following the death of Bedřich Franz Joseph of Thun-Hohenstein.
One evening, "a tribute was paid to the newlyweds by the officers of the manor, speeches were made, fireworks were set off, and music was played. Jerzy Czapski spoke briefly and in German. His wife admired Countess Thun for her energy and organisation skills. She was marrying off her sixth daughter! The date of the marriage was set for 7 August, to be given by Archbishop Schönborn of Prague, who was related to the Thuns. From Kvasice they went to Děčín, where the bride's five older sisters with their husbands and children had arrived."
The groom's brother and numerous cousins also came. The bride's brother, František Thun-Hohenstein, showed all the guests his estates in the Elbe Valley, the beautiful forests and the well-managed farms. They also visited the castle chapel with the family tomb, and in the evening music was played and everyone danced.
"Even the groom, who did not dance, joined the others," wrote Maria Czapska.
The marriage took place on Saturday, 7 August 1886. The weather was favourable to the newlyweds. Prior to the ceremony, the Archbishop had confirmed the groom.
After the ceremony, about 50 people sat down to the "déjeuner dinatoire" and then the young couple left for Dresden.
"Poor Juża," wrote Grandma Czapská, "shed tears as she said goodbye to her beloved mother. And today they are in Dresden – happy and alone. May God help them. They have enveloped us here with warmth and expressions of trust; I am leaving with unforgettable memories."
The young couple did not go on a traditional honeymoon. From Dresden they continued via Berlin and Warsaw to Minsk and from there to Przyłuk.
The inexperienced nineteen-year-old Countess Josefa stood – without any knowledge of Polish, or Belarusian – on the threshold of the neo-Gothic castle, which its previous owners had rebuilt from a former Basilian monastery. It was here that she was to bring up eight children and live with her husband for seventeen years. It was here that she was to give birth prematurely to her daughter Teresa, who, baptised with water, subsequently died, and it was here that "my mother was to die so young", as her daughter and Józef's sister Maria Czapska described it.
The story of the two families was recorded in detail by Maria Czapska in her book Europa w Rodzinie (Europe in the Family).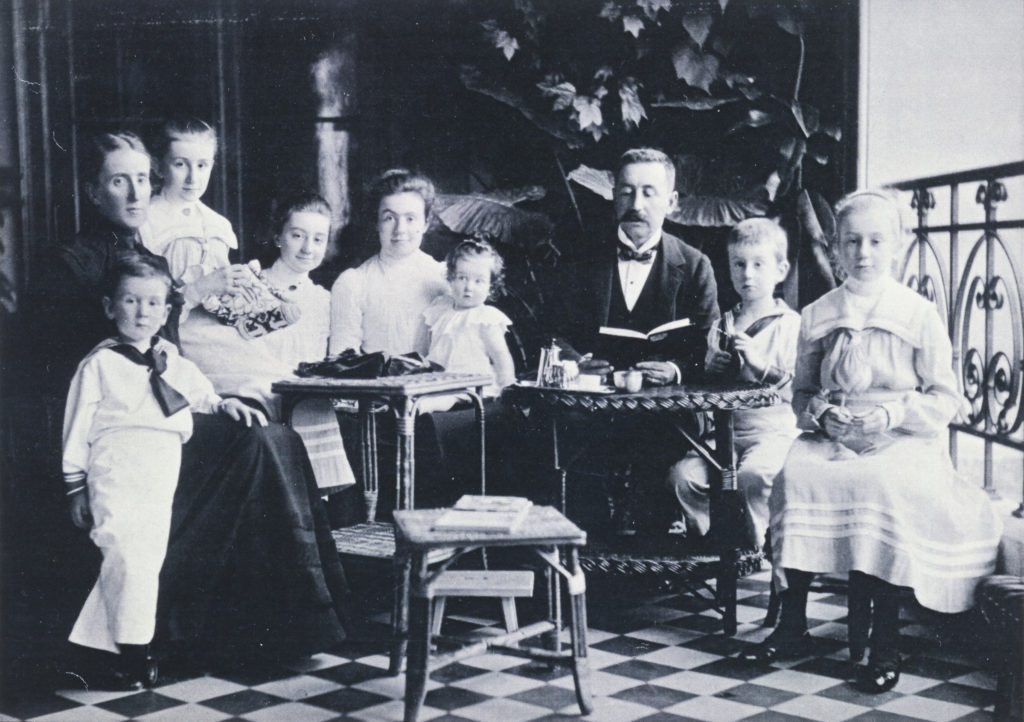 Siblings:
Czapski had seven siblings, Leopoldyna Elisabeth (1887–1969), Elisabeth Maria (1888– 1972), Karolina Maria (1891–1967), Maria Leopoldyna (1895–1981), Stanislaw Gedeon (1898–1959) and Rosa Maria (1901–1986). His youngest sister Teresa lived only for a few hours. She died following her premature birth in 1903.
The Birth of Józef Czapski in Prague
Józef Czapski was born on 2 or 3 April 1896, at a time when we would not have found Poland on the world map. After Poland was divided by the powers of Austria, Russia, and Prussia, the Hutten-Czapski family's estates were on Russian-occupied territory. That is why the mother gave birth to her children in Prague, in the Thun family palace, at 20 Nerudova Street.
"The nursery was located above the entrance gate to the palace, with the wings of two eagles above it. We used to sprinkle bun crumbs on the wings for the pigeons, so I remember them only from above."
Jozef was christened on 4 April in St Nicholas Church in Prague.
After a few months, the mother returned to Przyłuk with the little Józef, where the boy subsequently spent his childhood.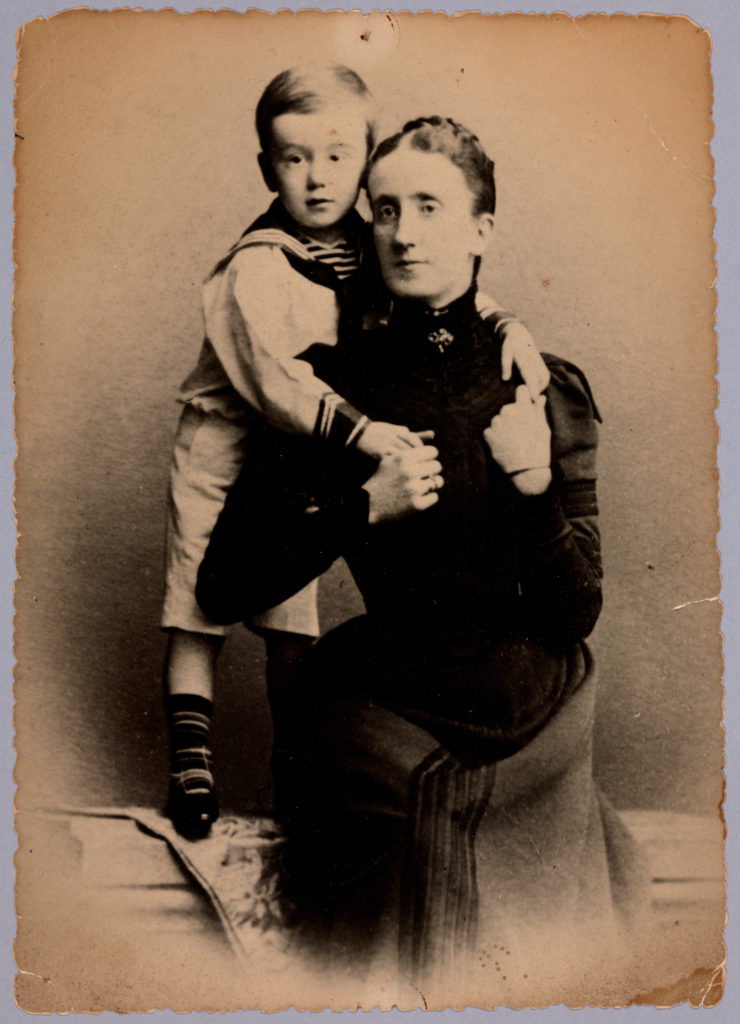 As the firstborn son, he was his mother's pet. He could sit closest to her at mealtimes and spend plenty of time in her room.
Polish, German, and French were spoken in the Czapski household. The children were educated at home and their teachers were well vetted.
Czapski recalled in an interview: "My mother was Austrian, my grandmother was Baltic German, my father was in Russia and then in Poland. I was born in Prague, where my grandmother lived. I can say in all seriousness that we had a lot of non-Polish blood in our veins. If we really became Poles, we owe it to our mother, with whom we sang Jeszcze Polska nie zginęła and Kde domov muj. And never in her life did she speak to us in any language other than Polish.
So my mother was the one who led us to Polishness. My father was quite undecided in this respect. He was a large landowner, he maintained relations with the Russians, although we never hosted Russians in our home. Nevertheless, it was a sort of family tradition – my grandfather was a Russian official. So the return to Poland occurred when my grandfather left the tsar's service, took all his collections and moved to Kraków, where he founded the Czapski Museum. We, of course, loved Poland, we thought in Polish, we sang Polish songs, such as Cześć wam Panowie Magnaci, we loved that one, but the desire to fight for Polish independence was spurred by Piłsudski in Halych. We didn't know anything like that. I actually became a Pole, and a devoted Pole at that, only when I came to Kraków and met Stanisław Brzozowski, and it was Brzozowski, Żeromski and such who brought us to Polish national and social consciousness."
Czapski lost his mother at an early age in 1903. He was seven at the time. This was due to the birth of her eighth child, Teresa. "Until the end of her life she was in her right mind, saying goodbye to her children and giving them her last instructions," wrote Maria Czapska.
During the holidays of 1903, the Czapskis called Miss Škroupová from Bohemia to take care of the children. She was the daughter of a composer and author of the melody of the Czech national anthem. It was she who took care of the children when their mother was dying in agony.
Czapski remembered his childhood, despite losing his mother so early, as a happy one. He was always surrounded by good women, although after his death Czapski's sisters, especially Leopoldyna, Elżbieta and Karolina, took care of the children and were sometimes authoritative towards their siblings. Czapski, however, never complained. He only spoke negatively about his teacher, Władysław Iwanowski.
When Czapski was asked whether he had always wanted to become a painter, he replied that he had practised the piano a lot in his youth until 1920 and thought he would devote his life to music (as his younger brother Stanisław had done).
"One summer," recalls Maria Czapska, "Józef wanted to learn to sculpt […] An artistic sculptor came from Kraków, recommended by a family friend, the sculptor Ludwik Puget. […] My father never denied us anything; he let us be free and was sympathetic to our wishes. […] We set up the sculpture studio in a spacious and bright, uninhabited, unheated room on the second floor; Józef modelled in clay, I drew in charcoal, and the lame bell-ringer Mazurkiewicz served as our model."
He began to learn drawing under the guidance of Jarosław Tyszyński, who came to Przyłuki to shape the young Józef's taste.
In 1920, the Bolsheviks confiscated the family's house and piano, which made Czapski all the more inclined towards the visual arts, even though his father had always associated his future with a career as a civil servant. The Bolshevik Revolution in Russia, however, forced his father to revise his plans.
When Poland regained its independence and returned to the world map after 123 years, Józef Czapski concealed the fact that he had studied at a Russian university and enrolled in February 1921 to study at the Academy of Fine Arts in Kraków.
Texts by Elżbieta Skoczek